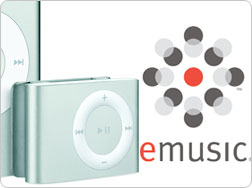 So emusic has recently inked a deal with Warner Music Group, but at what cost?  With the deal in place now Warner Music Group will be  picking which of their artists and songs will appear on the site. This is much like the deal with Sony last year when emusic subscribers suddenly found names like Britney Spears and Michael Bolton in the catalog of mp3s they could download from.
So I ask, what's up with emusic?  Are they no longer a website that was molded  for indie artists and their fans? With the major label deals they are signing it is no surprise that there have been some price increases in the music. As emusic continues to dance with bigger partners, and what business man could blame them, will they suffer a hit from loyal users who liked them because they were not corrupted with mainstream pop music? Have they overplayed their hand and destroyed the niche that was working for them? I guess we will see. If so, and they become further corporate sell outs, will a new site arise in their place?
I'll be looking for a new site that is about promoting good music and championing good artists, and not falling prey to the major labels greedy claws.
Try Checking these sites out:
New Groove Music – These guys are just getting started, but seem to have a great plan in place that will provide tons of free music for fans, and yet pay artists royalties for their music as well. This one could be big in the near future!
The Sixty-One – Great site for discovering and buying new music from a large selection of fantastic indie artists.
Free Indie – A blog providing a few free downloads of each Indie Artists it features. You will find plenty of new stuff here too.
Indie-Music.com – Another site for discovering lots and lots of great indie music.